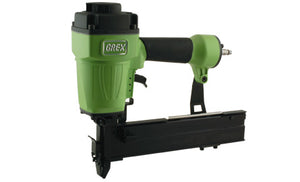 Grex 1151 Stapler. For 16 Gauge 7/16" Crown Staples. 3/4" to 2" Length.
For Use With: Bostitch 16S5 Series, Senco N Wire Staples, Spotnails 6800PG, Atro 100, BeA 16, Prebena L, Omer M2, Kihblerg 783 Hitachi N5008 16 Gauge 7/16″ Crown, Fasco, Porter Cable MS200, Max TA551 and other 16 Gauge 7/16″ Crown Staples.
Suggested Applications: Furniture frames, Cabinet assembly, Case back installation, Box spring assembly and manufacturing, Subflooring, Wall and roof sheathing, Fascia and soffit, Underlayment, Crate and pallet construction, Sash and millwork, Fencing, Butt joints, Trusses, Roofing
Most Orders ship within 2 days. Orders from California may take 5 to 7 days to ship. 
Spotnails Brand Staples

BeA Brand Staples