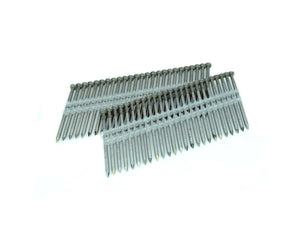 Spotnails
 TD10D120RHDG 3" x .120" Clipped Head Ring Shank Hot Dip Galvanized Paper Tape Nails for 31 32 33 or 34  Degree Nailers (2,500)
Spot Nails TD10D113RHDG
For Use in: Spotnails NTD90, YTD90; Apach L-3490; AN-10034E; and any other 31-34 degree paper tape nail guns.
Model: Spotnails TD10D120RHDG Paper Tape Nails
Length: 3"
Diameter: .113"
Angle: 31
Finish: Hot Dip Galvanized
Shank: Ring
Quantity: 2,500
Ask about our 

DISCOUNTS 

for Bulk Orders and 

DISCOUNTS 

for Chicago Area Businesses. Call 847-674-0600 for details.