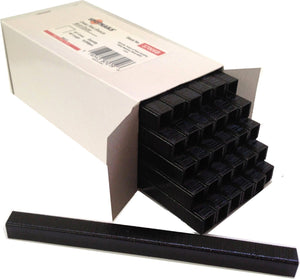 71 Series Black Upholstery Staples 3/8 Length 1/2 Crown 87006B (40,000) 
FREE SHIPPING!!!!!
Model: Spotnails 87006B
Length: 3/8"
Crown: 3/8"
Gauge: 22
Finish: Black Coated Galvanized Steel

Type: 71 Series, Bostitch BA7101, Senco C Wire
Quantity: 10,000
Applications: Automotive Upholstery, vinyl, fabric, leather, furniture upholstery, insulation, screens
For Use In:
Bostitch Tool Models: TU216-71, T27-11, TU216-71LN
Bea: 71/16 401, 71/16 421, 71/16 436LN, 71/14 451A
Atro 72 Series Tools
Empire 7 Series
Fasco F1B 7C-16 F1B 7C-16 AUTO F1b 7C-16 AUTO L/M F1B 7C-16 LN50mm F2S3G-16, F1a S3G-16
Senco SFW10XP-C, SFW10XP, SJS, JG, SFTB
Spotnails PS7116 IS7116 BS7116AF DS7116, JS7116, BS7118, TES5318
Jamerco JTS7C16
Campbell Hausfeld SN162H
Plus many others that accept 71 series or Senco C wire staples
Ask about our 

DISCOUNTS 

for Bulk Orders and 

DISCOUNTS 

for Chicago Area Businesses. Call 847-674-0600 for details.
Orders ship next business day