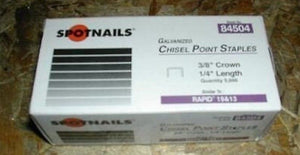 Spotnails 84504 Rapid 13, 19, 28, 30, R-19, A-19 Type 1/4" Staples (50,000)
Interchangeable with Rapid 19 Staples
*****FREE SHIPPING*****
For Use In:  Spotnails: 84000, 84001; Rapid: R-19, Rapid 23E, Rapid 30, Rapid 33, Rapid 13, ESN113, M10Y, MS610, MS813, Salco A19, Arrow A-19. 
Model: Spotnails 84504 Rapid 19 Staples

Length: 1/4"
Crown: 3/8"
Quantity: 50,000 (10 Boxes)
Similar to Rapid 19, 28, 30
R-19, A-19

If you have any questions or doubts about what your tool requires, please contact us.
Ask about our
 

DISCOUNTS 

for Bulk Orders and

 

DISCOUNTS 

for our fellow Chicago Area Businesses. Call 847-674-0600 for details.