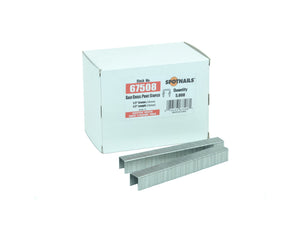 Spotnails
 67508 Bostitch SB5019 Senco F Paslode PW50 1/2" Staples (5,000)
****FREE SHIPPING*****
Spot Nails 67504
Compare to Senco F, Bostitch SB5019, ATRO 88, Paslode W50, and Prebena AK staples. 
For Use In: Spotnails DSP5019; Senco: DFP, J5, SFW10XP-F, SJS-F; SJ10-F; Bostitch: P50-5B, P51-5BE; Fasco: F1A SR5-16 F1B SR5-16
Model: Spotnails 67508 SB5019 Staples
Length: 1/2
Gauge: 20
Crown: 1/2"
Finish: Galvanized Steel
Quantity: 5,000
Ask about our
 

DISCOUNTS 

for Bulk Orders and 

DISCOUNTS 

for our fellow Chicago Area Businesses. Call 847-674-0600 for details.