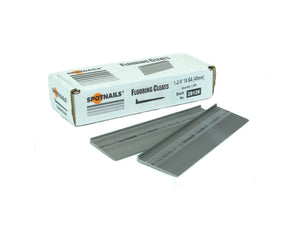 Spotnails 28128 1-3/4" Cleat Nails L Type (2,400) for Powernail, Primatech, and other 18 Gauge Flooring Cleat Tools
Spot nails 28128
Model: Spotnails 28128 Flooring L Cleat
Quantity: 2,400 (2 Boxes)
Finish: Galvanized Steel
Gauge: 18
Length: 1-3/4"
For Use In: Powernail: 50P, 50M,Flex Primatech: Q550, Q500, Q510 dsspot 28220 10m If you have any questions or doubts about what your tool requires, please contact us. 
Ask about our DISCOUNTS for Bulk Orders and DISCOUNTS for Chicago Area Businesses. Call 847-674-0600 for details.