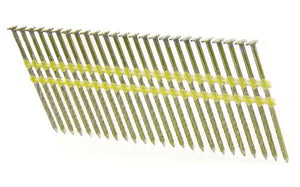 Spotnails
 2-10D120S 3" x .120" Screw Shank Plastic Strip 21 Degree Angle Screw Nails 20 21 and 22 Degree Strip Nailers (2,000) half CASE
*****FREE SHIPPING*****
Model: Spotnails 2-10d120S
Length: 3"
Diameter: .120"
Shank: Screw
Finish: Bright
Angle: 21 Degrees
Quantity: 2,000 (1/2 Case)
For Use In:  Spotnails: NPR90, YPR90; Senco: SN60/65/65C, FramePro 502/600FRH, 650/602/651/652, 700XL, 750XL, GT90RFH, SN902/952XP, 702XP/752XP FRH; Duo-Fast: SNP-83, CN350, CN-350B, CN-350B-SH, CN-137, NSP-350F; Porter Cable: FR350; Paslode: 5325/SRH,  5350/SRH-20; Dewalt: D51845, D51844, 51850; Jamerco: JTNFHC-90; Max: SN883/890RH, SN80/90/90A, GS683RH, GS683H-EX; Makita: AN8300,  AN922/923; Bostitch: N95RHN, N88RH-MCN2, N88RH/N86S, RN90, F21PL, KN85PP-1; Hausfeld: NS209000; Craftsman: 18365, Fasco: F5C RHN 20-83, F6 RHN 20-90, R5C RHN20-90; Unicatch: UNS350PL; Hitachi: NR83A, NR90AC, NR83A2, NR83A2S; Grip-Rite:  GRTRH350; Rigid:  R350CHA
2,000 Nails (1/2 Case)
3″ Length x .120″
These nails are designed for nailers that require 20,21,22 degree nails
Full Round Head Plastic Collated @ 21 Degree Angle
Ask about our 

DISCOUNTS 

for Bulk Orders and 

DISCOUNTS 

for Chicago Area Businesses. Call 847-674-0600 for details. 
 1/2 Case repackaged for cost effective shipping.