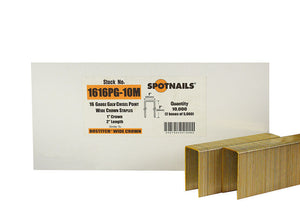 Spotnails 1616pg 1 Inch Wide Crown 16 Gauge 2" Staples (5,000)
FREE SHIPPING!!!!! 
Compare to Omer WP Prebena WS Atro 16WC Bostitch S2 BeA 140
Model: Spotnails 1616PG Wide Crown Staples
Length: 2"
Gauge: 16
Crown: 1"
Finish: Galvanized Steel
Quantity: 5,000
Bostitch: 438S2, 438S2R, 450S2, T40S2, T50S2,
Spotnails: XS1650, X1S1650, HL1612AW, HL1620
Omer: WS.38
Fasco: F3C ATW-38
Makita: AT2660A
Plus many others that require Bostitch S2 Wide Crown Staples
Ask Bulk Discounts and our discounts for Chicago Area Businesses. Call us at 847-674-0600.
Order ships NEXT BUSINESS DAY.
1616 PG