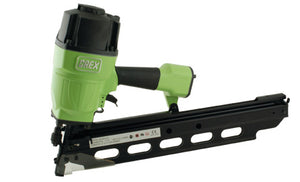 Grex SF9021H 21 Degree Round Head Framing Nailer. .113" to .148" Diameter Nails 2" to 3-1/2" Length. 
For Use With: 21 Degree .113 to 148 Nails
Suggested Applications: Framing, Subflooring, Decking, Truss construction, Wall and roof sheathing, Siding, Roof decks, Pallet construction, Box and crate construction, Bridging, Fencing.
Most orders ship within 2 business days. Orders to California take 5 to 7 business days to ship. 
Spotnails Brand Nails