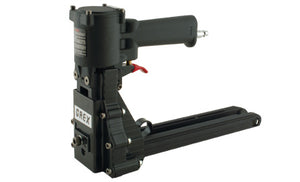 Grex ADB19-35 Carton Closing Stapler for A Style (1-3/8" Crown) Carton Staples.
For Use With: Any A Style Carton Staple (1-3/8" Crown), 5/8" to 3/4" Length. 
Suggested Applications: Paper corrugated cartons, Plastic corrugated cartons, Various boxes
Most Orders ship within 2 business days. Orders to California may take 5 to 7 business days to ship. 
Spotnails Brand Staples
| Stock # | Length | Finish |
| --- | --- | --- |
| CC58A | 5/8" | Copper coated |
| CC34A | 3/4" | Copper coated |

BeA Brand Staples
| Stock # | Length | Finish |
| --- | --- | --- |
| A 5/8 | 5/8" | Copper coated |
| A 3/4 | 3/4" | Copper coated |