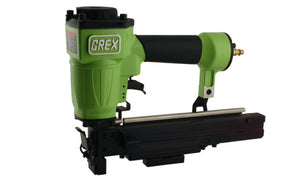 Grex 2638 16 Gauge 1" Wide Crown Stapler. 3/4" to 1-1/2" Length.
For Use With: Senco P, Spotnails 3600PG Duo-Fast 1700, HItachi N3824A, BeA 145 Series, and Fasco ES6

There are 2 types of 1" Wide Crown Staples, please make sure this correct for your fasteners. 
Suggested Applications: Furniture frames, Cabinet assembly, Case back installation, Box spring assembly and manufacturing, Subflooring, Wall and roof sheathing, Fascia and soffit, Underlayment, Crate and pallet construction, Sash and millwork, Fencing, Butt joints, Trusses, Roofing
Most orders ship within 2 business days. Orders to California may take 5 to 7 business days to ship. 
Spotnails Brand Staples
| | | |
| --- | --- | --- |
| Item # | Length | Type |
| 3608PS-10M | 1" | Stainless Steel |
| 3606PG-10M | 3/4" | Galvanized |
| 3607PG-10M | 7/8"  | Galvanized |
| 3608PG-10M | 1"  | Galvanized |
| 3610PG-10M | 1-1/4"  | Galvanized |
| 3612PG-10M | 1-1/2"  | Galvanized |

BeA Brand Staples
| | | |
| --- | --- | --- |
| Item # | Length | Type |
| P10 | 5/8" | Galvanized |
| P11 | 3/4" | Galvanized |
| P13 | 1"  | Galvanized |
| P15 | 1-1/4"  | Galvanized |
| P17 | 1-1/2"  | Galvanized |