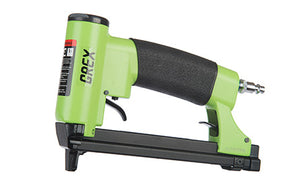 Grex 2116AD Upholstery Stapler for Senco A & D Style Staples. 3/16" to 5/8" Length
For Use With: Senco A, Senco D, and other 22 Gauge 3/16" Staples. 

Suggested Applications: Upholstering, Carpet laying, Light wood assembly, Display and sign work, Luggage construction, Silk screen assembly, Home building applications, Applying drapery fabric to cornices, Sign shops, Box spring and mattress covers, Automobile interior, Installation of light trim moldings, Light gauge metal piercing, Roofing paper
Most orders ship within 2 business days. Orders to California may take 5 to 7 business days to ship.