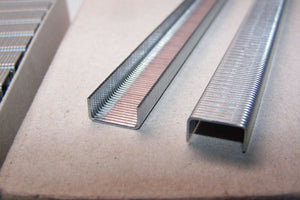 Fasco ESBNK-4023-12 1/2" Bostitch SBNK4023 Type Staples. 
Model: Fasco ESBNK-4023-12 84 Series Staples
Type: Bostitch SBNK4023 Style
Length: 1/2"
Crown: 1/2"
Finish: Galvanized Steel
Quantity: 100,000
Interchangeable with: Bostitch SBNK4023, Bostitch 31 Series, and Atro 84 Series Staples. 
For Use With: Fasco F1B 84-16 Stapler and Bostitch TU20-7, T27-7, T28-1, T31-2
Ask about our
 

DISCOUNTS 

for Bulk Orders and

 DISCOUNTS 

for our fellow Chicago Area Businesses. Call 847-674-0600 for details.