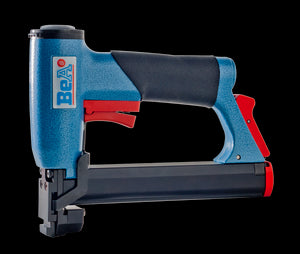 BeA 92/25-553FCS 92 Series Dial Adjusted Flare Stapler with Safety. 18 Gauge 5/16" Crown Stapler.
For Use With: BeA 92 Series, Bostitch SL5035, Spotnails 5800PG, Kihlberg JK 664, Prebena H, and other 18 Gauge 5/16" Crown Staples
PRODUCT DESCRIPTION
Flare tool: allows staples legs to be bent outward upon penetration. Simple Dial Adjustment of flare angle. Excellent holding power for bedding applications.
made in Germany
Dial for adjustable flare angle
full metal body and magazine
adjustable flare nose
integrated silencer
ergonomic design
low air consumption
compact design
one year limited warranty
Spotnails Brand Staples
| Stock # | Length | Finish |
| --- | --- | --- |
| 5804PG-50M | 1/2" | Galvanized |
| 5805PG-50m | 5/8" | Galvanized |
| 5806PG-50M | 3/4" | Galvanized |
| 5807PG-50M | 7/8" | Galvanized |
| 5808PG-50M | 1" | Galvanized |
BeA Brand Staples