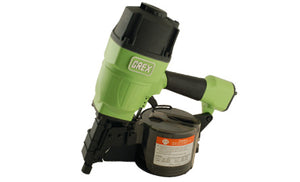 Grex CN90A Wire Coil Nailer. .099" to .131" Diameter Nails, 2" to 3-1/2"
For Use With: Wire Collated .099 to .131 Nails

Suggested Applications: Crate and pallet construction, Subflooring, Framing and sheathing, Siding, Decking, Wall and roof sheathing, Drywall installation, Fencing, Wood Assembly, Wall framing, Truss construction
Most orders ship within 2 business days. Orders to California take 5 to 7 business days to ship. 
Spotnails Brand Nails
.099 Nails
.113 to .130 Nails