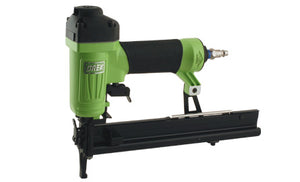 Grex 9032 18 Gauge 1/4" Crown Stapler. 3/8" to 1-1/4" Length
For Use With: Senco L, Spotnails 4800PG, Duo-Fast 1800 series, BeA 90 Series, Atro 90, Prebena EB, Haubold KL 6000, Hitachi N3804, Kihlberg JK781, Omer 90 Series and Porter Cable NS100.
Suggested Applications: Case construction, Corners and blocks, Heavy cabinet work, Hardwood shelving fixtures, Installation of light trim molding and pre-finished panelling, Plywood assembly, Underlayment, Subflooring, Crate and pallet construction, Fencing, Lattice
Most orders ship within 2 business days. Orders to California may take 5 to 7 business days to ship. 
Spotnails Staples
| Stock # | Length | Type |
| --- | --- | --- |
| 4803PS-50M | 3/8" | 304 Stainless Steel |
| 4805PS-25M | 5/8" | 304 Stainless Steel |
| 4806PS-25M | 3/4" | 304 Stainless Steel |
| 4807PS-25M | 7/8" | 304 Stainless Steel |
| 4808PS-25M | 1" | 304 Stainless Steel |
| 4810PS-25M | 1 1/4" | 304 Stainless Steel |
| 4803PG-50M | 3/8" | Galvanized |
| 4804PG-50M | 1/2" | Galvanized |
| 4805PG-50M | 5/8" | Galvanized |
| 4805CG-50M | 5/8" | Cross Chisel |
| 4805OCG-50M | 5/8" | Outward Clinch |
| 4806CG-50M | 3/4" | Cross Chisel |
| 4806PG-50M | 3/4" | Galvanized |
| 4807PG-50M | 7/8" | Galvanized |
| 4807DG-50M | 7/8" | Divergent |
| 4808PG-50M | 1" | Galvanized |
| 4809PG-30M | 1 1/8" | Galvanized |
| 4809DG-30M | 1 1/8" | Divergent |
| 4810PG-30M | 1 1/4" | Galvanized |

BeA Staples