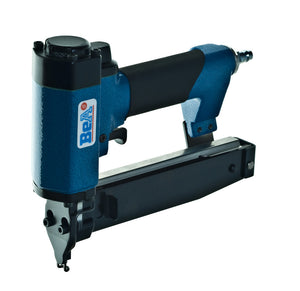 BeA
 SK338-616 18 Gauge Brad Nailer, 1" to 1-1/2"
For Use With: Senco, Bostitch, Spotnails, Duo-Fast, Paslode, Porter-Cable, Hitachi, Grip-Rite, Dewalt, Makita, Max, Rigid, Fasco, BeA, Campbell Hausfeld, and other 18 Gauge Straight Brad Nails. 
PRODUCT DESCRIPTION
Industrial grade 18 gauge brad nailer. Well-balanced and powerful for prolonged use and extended service life.
very slim nose
top loading magazine
made in Germany
full metal body and magazine
integrated silencer
ergonomic design
low air consumption
one year limited warranty
Fasteners
| Stock # | Length | Finish |
| --- | --- | --- |
| 18116SS-8M | 1" | 304 Stainless Steel |
| 18516SS | 1" | 304 Stainless Steel |
| 18120SS-8M | 1 1/4" | 304 Stainless Steel |
| 18520SS | 1 1/4" | 304 Stainless Steel |
| 18524SS | 1 1/2" | 304 Stainless Steel |
| 18124SS-8M | 1 1/2" | 304 Stainless Steel |
| 18116 | 1" | Galvanized |
| 18516 | 1" | Galvanized |
| 18518 | 1 1/8" | Galvanized |
| 18119 | 1 3/16" | Galvanized |
| 18519 | 1 3/16" | Galvanized |
| 18120 | 1 1/4" | Galvanized |
| 18520 | 1 1/4" | Galvanized |
| 18522 | 1 3/8" | Galvanized |
| 18124 | 1 1/2" | Galvanized |
| 18524 | 1 1/2" | Galvanized |